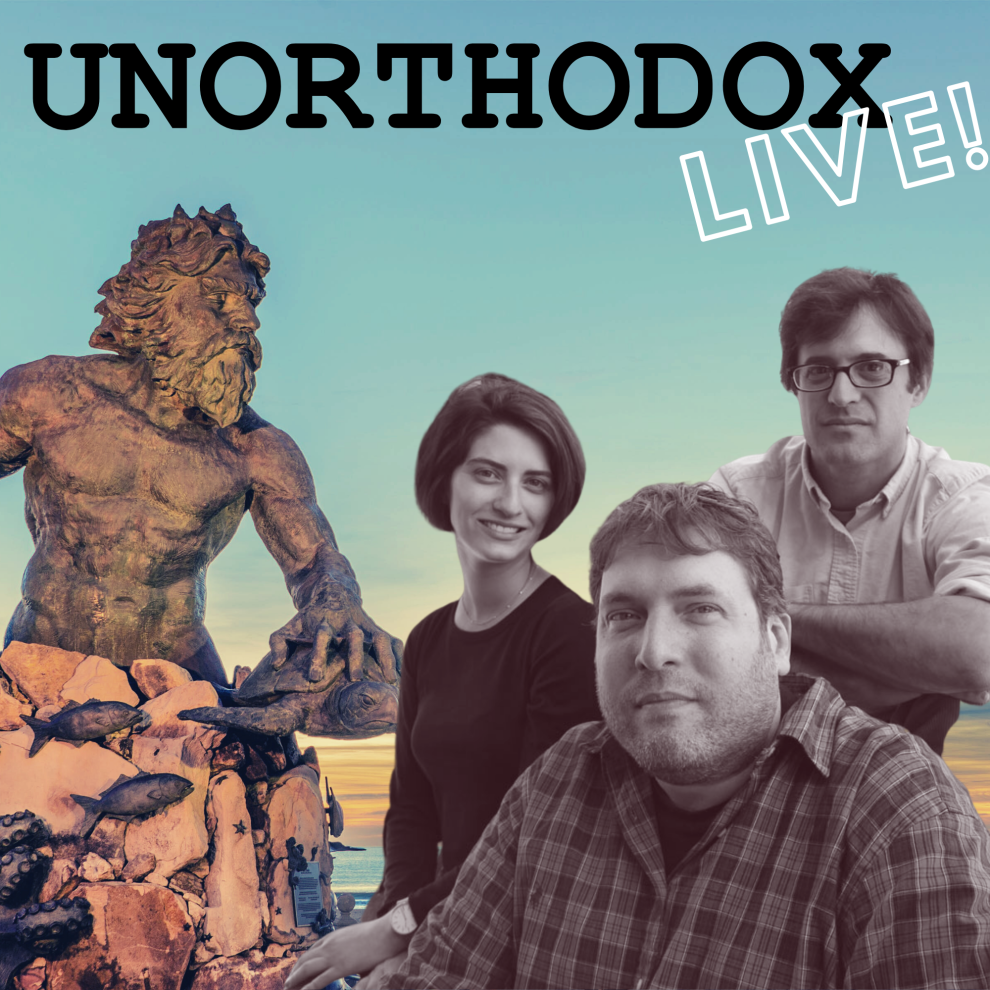 Enjoy a night out at the Virginia Museum of Contemporary Art with a LIVE taping of Tablet magazine's leading international flagship podcast, Unorthodox!
Featuring special guests Congresswoman Elaine Luria and NLF Hall of Famer Bruce Smith.
Always irreverent with discussions about Jewish news, politics, and so much more, Unorthodox is hosted by Mark Oppenheimer (Tablet editor-at-large/LA Times Columnist/former NY Times columnist), Stephanie Butnick (Tablet deputy editor), and Liel Leibovitz (Tablet editor-at-large). With over 6 million downloads and heard in more than 11 countries, Unorthodox is one of the most popular Jewish podcasts of our times. This night is not to be missed!
$18 a ticket or $30 with signed copy of Newish Jewish Encyclopedia: From Abraham to Zabar's and Everything in Between.
Special bundle of admission and signed book ends March 31. Limited Seating. Advance tickets strongly suggested.
ABOUT THE BOOK
Deeply knowing, highly entertaining, and just a little bit irreverent, The Newish Jewish Encyclopedia is an unputdownable encyclopedia of all things Jewish and Jew-ish covers culture, religion, history, habits, language, and more.
Readers will refresh their knowledge of the Patriarchs and Matriarchs, the artistry of Barbra Streisand, the significance of the Oslo Accords, and the meaning of words like balagan, bashert, and bageling.
Learn how the Jews invented Hollywood. Even discover the secret of happiness (see "Latkes"). Includes hundreds of photos, charts, infographics, and illustrations. It's a lot.
Event Location
Virginia Museum of Contemporary Art
2200 Parks Ave
Virginia Beach, VA 23451
Presented by the Milton "Mickey" Kramer Scholar-in-Residence Fund of the Congregation Beth El Foundation's Tidewater Together Series. In partnership with the United Jewish Federation of Tidewater & the Simon Family JCC's Lee and Bernard Jaffe Family Jewish Book Festival.
---
The well-being of our audience members and employees remain our top priority. The United Jewish Federation of Tidewater and Simon Family JCC continue to follow CDC guidance and recommendations. 
How is the United Jewish Federation of Tidewater & Simon Family JCC Keeping Audiences Safe? 
Since the start of the COVID-19 pandemic, the United Jewish Federation of Tidewater & Simon Family JCC have made safety our first priority. That includes a commitment to monitoring evolving conditions and public health measures, and adjusting our protocols to protect attendees and staff. 
UJFT will continue to closely monitor the situation and update COVID-19 safeguards as circumstances warrant, in consultation with medical experts, and in accordance with federal, state, and local guidelines. 
Am I required to be vaccinated to attend Unorthodox Live in Tidewater? 
Yes. The United Jewish Federation and Virginia Museum of Contemporary Art will now require proof of vaccination for audiences attending this in-person program. 
Alternatively, event attendees (including those ineligible for or unable to get the vaccine) may present proof of a negative COVID test taken within 72 hours of the event. 
What do I need to bring with me to the Virginia Museum of Contemporary Art to verify my vaccination status or COVID test result? 
You will be required to show your vaccination card, or a digital copy or photo. The card must indicate you've received both doses of the Moderna or Pfizer vaccines, or the single dose Johnson & Johnson vaccine, AND a booster shot, at least two weeks prior to your film screening. You will also need photo identification with the same name as that on the vaccination card.     
You also have the option to present a negative COVID-19 test result, administered within 72 hours of showtime, along with matching photo ID. 
Does UJFT accept a negative COVID-19 at-home test? 
No. UJFT requires a negative COVID-19 diagnostic test, either a rapid/antigen test or PCR test, administered by a healthcare professional. Self-tests or at-home tests, as well as antibody tests, are not sufficient to attend this event.